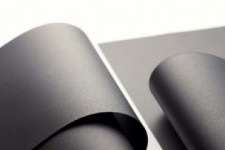 Montreal, Canada, June 8, 2017 (Newswire.com) - International PV material supplier Targray has announced the North American launch of ICOSOLAR® CPO 3G, an innovative co-extruded polypropylene (PP) backsheet by ISOVOLTAIC for solar module manufacturing.
First unveiled at the 2017 Intersolar Europe conference in Munich, the ICOSOLAR® CPO 3G backsheet solution was created by leading backsheet developer ISOVOLTAIC in collaboration with Borealis, a provider of innovative polyolefin solutions for the global energy industry. Targray, an industry-leading supplier of photovoltaic materials since 2005, has been selected as the exclusive North American distributor of the ICOSOLAR® CPO 3G backsheet.
"ISOVOLTAIC's innovative backsheet technology strikes the right balance between durability and competitive price to maximize ROI for North American solar module producers,'' said Stephen Exell, Commercial Director of Targray, Solar Division. ''Our U.S. and Canada-based PV manufacturing customers will benefit from the performance-oriented features of the ICOSOLAR® CPO 3G backsheet.''
About the ICOSOLAR® CPO 3G Backsheet
The new ICOSOLAR® CPO 3G backsheet solution extends the lifetime of PV modules and ensures greater operational reliability and performance. It consistently provides:
Increased module output thanks to excellent reflectivity
Superior water vapour transmission and acetic acid permeability
Outstanding hydrolytic stability and insulation
The absence of adhesive layers in ICOSOLAR® CPO 3G backsheet technology eliminates the risk of de-lamination for solar module producers. The co-extruded Polypropylene yields the highest possible production quality and homogeneity while also reducing manufacturing complexity. This further increases its appeal as a replacement for conventional PET-based backsheets. For more information about the ICOSOLAR® CPO 3G backsheet, visit targray.com/solar or contact the Solar Division.
About Targray
Targray is a multinational renewable commodities company with customers in over 50 countries throughout Asia, Europe and the Americas. Founded in 1989 in Montreal, Canada, the company has been the leading material supplier to the international photovoltaics industry for over a decade. Its comprehensive portfolio of solar materials includes products focused on helping solar cell and module manufacturers maximize the quality and reliability of their products, while significantly lowering manufacturing cost-per-watt. For more information, visit www.targray.com.
About ISOVOLTAIC
ISOVOLTAIC AG is a world market and technology leader in the development and production of backsheets, a key component of photovoltaic modules. It has to date produced over 250 million square metres of backsheets in its 30 years in the industry and significantly shapes established industry standards with its ICOSOLAR® products. ICOSOLAR® backsheets provide long-term protection for solar cells so that they can convert sunlight into usable energy for a long time. ISOVOLTAIC employs around 150 people at four corporate locations, including its headquarters in Lebring (Austria) and subsidiaries in Hong Kong, Changzhou and Suzhou (China).
About Borealis
Borealis has been a leading provider of polyolefin solutions for the energy industry for over 50 years. Its expanding portfolio of products and services is based on unique and proprietary technologies that create real value for customers and enable step-change innovations. Borealis provides services and products to customers around the world in collaboration with Borouge, a joint venture with the Abu Dhabi National Oil Company (ADNOC). With its head office in Vienna (Austria), the company currently employs around 6,600 individuals and has operations in over 120 countries.
Source: Targray
Share: